Quick update on 'The Kids Aren't Alright' short film, which Sbob composed and produced the music for.... 
The film premiere took place in Irvine, Scotland on 23rd January 2017 with the cast, crew and an invited audience (including the Mayor) and a clip of the stripped back live acoustic version of the song, with Amber on vocals, Sbob on piano and Ray Kirk on guitar can be seen here:
The film was selected as a finalist for the Raptorz Short Film Festival on 29th Jan, and has been submitted and selected for various other festivals throughout the UK, Europe and North America. The film, which tells the stories of 4 girls from Irvine in Scotland, gives a voice to young people who grow up in families with addiction issues and who have possibly been taken into care to highlight the issues that are often hidden at home, and shows that hope can spring from these tough circumstances.  Sbob is proud that the song was shaped by input from the girls who are portrayed in the film.  Featuring Sam Rae on violin, Jennifer Faulds, Amber Stevenson and Beth Murdoch on vocals.  The photo is director Lawrence Crawford and Sbob on the red carpet at the Raptorz Short Film Festival.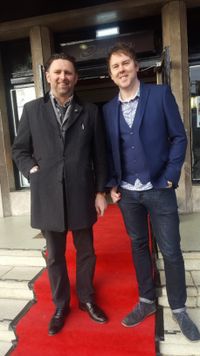 Listen to the full song version HERE